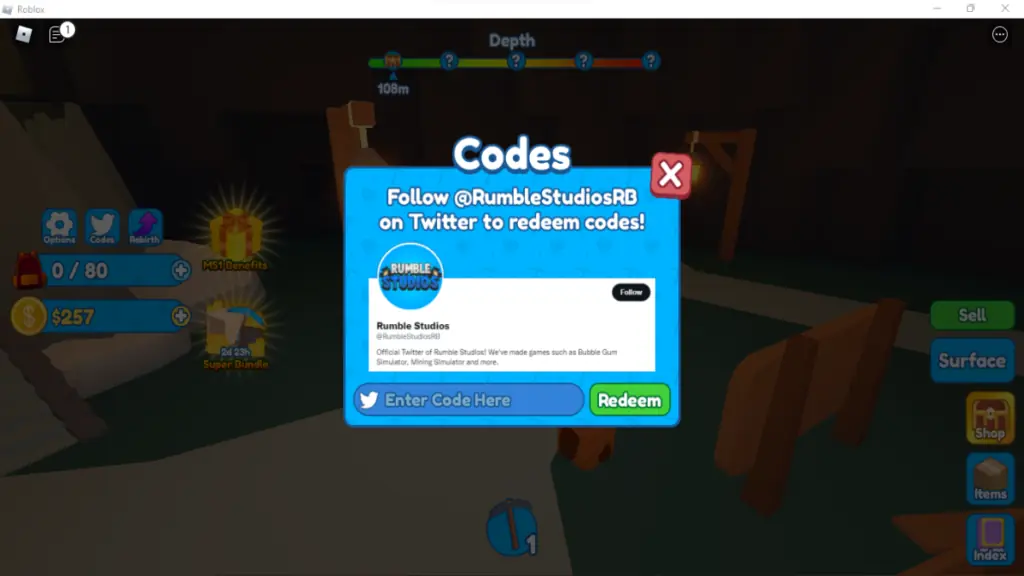 Mining Simulator 2 is a fun, free-to-play game on Roblox, an online gaming platform. Mining Simulator 2 allows players to gain an exponential amount of riches by mining to their hearts' content! There are always Mining Simulator 2 codes for free stuff in game. Fans of Minecraft and Terraria will love this game, Mining Simulator 2 is the perfect game to play and relax to at the end of a long day.
Mining Simulator 2 players can mine ordinary materials such as dirt and stone, but can also mine rarer materials, such as fossils and rare ores! Common materials can be sold cheaply to in-game shops, and rarer materials can be sold at the same in-game shops at much higher rates. In addition to mining, Mining Simulator 2 also allows players to purchase eggs with coins and gems and hatch their own pets to accompany them on their mining endeavors! Although it can be rewarding to work hard and earn money in Mining Simulator 2, all games are more fun with free rewards from codes.
Here are all the current codes for Mining Simulator 2, to start your mining journey off right. Don't forget to bookmark this page to stay up to date on all this game's latest codes!
All Mining Simulator 2 Codes
Last checked: June 6, 2022
Mining Simulator 2 Working Codes:
Gems – 50 Gems (New)
RareCrate – Rare Crate (New)
Release — Redeemable for 100 coins.
FreeCrate — Redeemable for a free Basic Crate.
FreeEgg — Redeemable for a free Basic Egg.
Mining Simulator 2 Expired Codes:
Mining Simulator 2 Frequently Asked Questions
What Can Coins Be Used for in the Game?
Coins can easily be earned and too easily spent in Mining Simulator 2. Coins can be gained by mining or by redeeming promo codes and can be spent on many upgrades and equipment in the game. Coins can be traded for new skin packs, new inventory bags, additional mining equipment, in-game pets, and many upgrades! Like many games, it can be difficult to earn much money at the beginning of your playthrough, so these codes should help you start your mining career off right in Mining Simulator 2!
What are Eggs in Mining Simulator 2?
Eggs can be bought with in-game currency or gained as rewards through promo codes. Players who receive eggs will be able to hatch them into pets to bring with them on their mining adventures! Not only do the pets serve as adorable companions, but they also have the ability to help their players by providing them with harvesting and selling boosts! There's no limit to how many pets players can have at one time, but there is a limit on how many can be equipped at once. Equipping and unequipping pets is a simple affair, however, so no pet gets left out of the adventures!
What are Crates in Mining Simulator 2?
Crates are rare, incredibly useful objects in the game that can be opened to receive a random item or reward. Crates can be opened to receive items like awesome accessories or new skins for your in-game gear! The items within the crates are random and vary in rarity, however, even the common rewards from crates can be amazing! Unlike eggs, crates cannot be bought in the game, and can only be gained as rewards.
How do you Redeem Promo Codes?
Redeeming codes in Mining Simulator 2 is a quick and painless process. All players need to do to redeem their codes and get their rewards is to follow these simple steps:
Open Mining Simulator 2 in Roblox.
Look to the left-hand side of the screen and locate the icon that looks like the Twitter icon.
Click the icon, and a new window should appear with a textbox where players can input their codes.
Accurately type the code into the window's textbox and hit the Redeem button.
Your code should now be redeemed.
If you are a fan of Mining Simulator 2, try playing its predecessor, the original Mining Simulator! If you love simulator games in general, or just need a break from the mining, check out these epic Roblox simulator games! For every game there is a code; stay up to date on the latest promo codes with Gamer Journalist!